Urinary tract infections (or UTIs) are very common, those with female bodies are more prone to 'cystitis' which is inflammation of the urethra (pipe that connects the bladder to the genitalia) due to having a shorted urethra. UTI can also mean an infection of the bladder or the kidney which can be more serious and will usually require antibiotics and sometimes admission to hospital.
Those who repeatedly get UTIs or have a catheter, children, or the elderly will usually need an assessment with a nurse practitioner or GP as are likely to require antibiotics or further investigations.
Note: not all urinary symptoms are caused by infection. For example if you have blood in your pee but do not have other symptoms, it is the first time or that keeps occurring it is very important to contact us to arrange to see a GP so we can identify why this is happening. The NHS website has more details on blood in your pee.
Self-help
Cystitis will usually settle itself quickly, but there are some ways to help speed up recovery.
Typical symptoms of cystitis are:
pain, burning or stinging when you pee
needing to pee more often and urgently than usual
pee that's dark, cloudy or strong smelling
pain low down in your tummy
but without a high temperature, vomiting, or feeling generally unwell
Pharmacist advice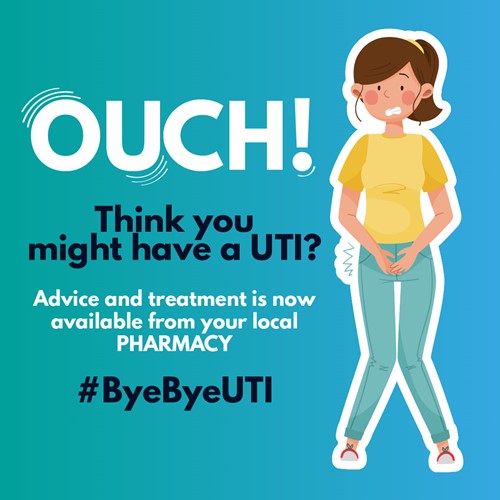 For women aged 16-64 years old your local pharmacist can also provide assist if you think you have a UTI. They are able to help decide if you have mild cystitis or a UTI which might require antibiotics. Pharmacists in our local area are now able to prescribe antibiotics for uncomplicated UTIs without you needing to speak to a GP providing a much quicker service.
Note pharmacists are unable to assist children, men, anyone over 65, or if you are worried you might be seriously unwell.
At-risk groups
If you are in an at-risk group, are worried you might have a serious infection, or concerned your UTI might involve the kidneys should contact the surgery so we can assess you.
At risk groups include:
you have symptoms of a urinary tract infection (UTI) for the first time
your child has symptoms of a UTI
you're a man with symptoms of a UTI
you're pregnant and have symptoms of a UTI
you're caring for an older, frail person who may have symptoms of a UTI
you have a lowered immune system and have symptoms of a UTI
you have symptoms of a UTI after surgery
your symptoms get worse or do not improve within 2 days
your symptoms come back after treatment
Severe infections
Sometimes infections can become more serious and this is more likely if you are in an at-risk group or have severe symptoms.
The NHS website has more details of symptoms of UTIs and also kidney infections.
Symptoms of potential more severe infection include:
severe pain, especially if pain is moving around the back under the ribs (flank area)
high temperature (fever)
vomiting
becoming very tired, confused, or feeling generally unwell
passing blood in your pee (even if no other symptoms)
start wetting themselves (for example in children)
have mild symptoms such as cystitis but which aren't improving after 3 days